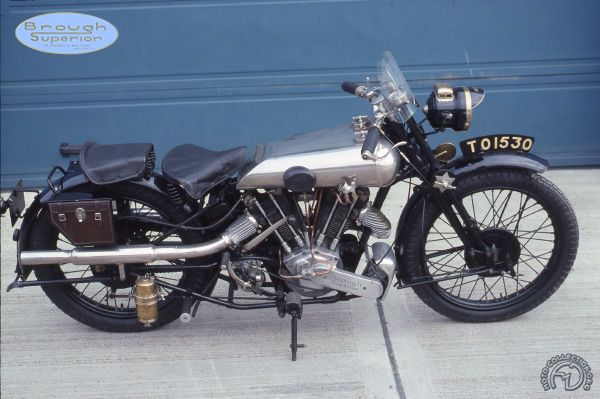 Photo ou archives : F-M. Dumas
203
Capacity
:
1000
Model
:
SS 100 Alpine GS
Production
:
1925 - 1926
Category
:
(R) Route



Brough Superior

1000 SS 100 Alpine GS – 1925
The Rolls Royce of motorcycles

The quality of Brough Superior bikes was so celebrated that the company's machines were often called the "Rolls-Royce of Motorcycles". Only about 3000 Broughs were built during the company's 1919 to 1940 lifespan.

Guaranteed Good for 100 mph
The SS 100, launched in November 1924, was based on a record-breaking bike developed by the great rider Bert Le Vack. The SS 100 had set a new world speed record of 113 mph at Arpajon, France, that year. Each SS 100 was guaranteed to have hit at least 100 mph on the Brooklands track. Each SS 100 was assembled, track-tested, dismantled, given five coats of enamel plus nickel-on copper plated side panels for its saddle tank and lined-out in gold leaf before being shipped.

Outstanding Roadholding
The SS 100 was the first Brough to be fitted with the famous "Castle" forks developed by Le Vack and "Oily" Karslake, which gave it outstanding roadholding. Among the company's most devoted customers was Colonel T.E. Lawrence - Lawrence of Arabia - who was a personal friend of George Brough and owned several Brough Superiors over a ten-year period. He was killed while riding one of them in 1935, swerving to avoid a boy cyclist. And an enthusiastic motorcyclist named William Lyons used the "SS 100" designation with Brough's blessing when he created the Jaguar carmaker in the Thirties.

SPECIFICATIONS
• Engine: 988cc JAP four-stroke v-twin
• Power output: 45 hp @ 4500 rpm
• Valves: side valves
• Fuel system: single carburetor
• Transmission: 3-speed hand-controlled gearbox: chain final drive
• Suspension (front) Castle leading-link forks; (rear) rigid
• Brakes: (front) drum; (rear) drum
• Wheels: wire beaded-edge 3.00x20 in.
• Weight: 440 lb.
• Maximum speed: 105 mph
.
Regarded as the best-looking of all the Brough Superiors, the 1925 SS 100 Alpine Grand Sport was a high-speed tourer without equal.




Motorcycle encyclopedia Moto Passion, realised by François-Marie Dumas, include almost 2000 photos presented with an exhaustive history of the motorcycles exhibited.

This unique collection has been realised with the participation of many specialists. With many thanks in particular to Yves Campion, Michael Dregni, Didier Ganneau, Jean Goyard, Helmut Krackowizer, Michel Montange, Christian Rey, Bernard Salvat, Mick Woollett, etc

One can order here

Original cards on paper (in french)
High resolution scans or original documents presented and signed with my name.

Please contact me at info@moto-collection.org for conditions and copyright.