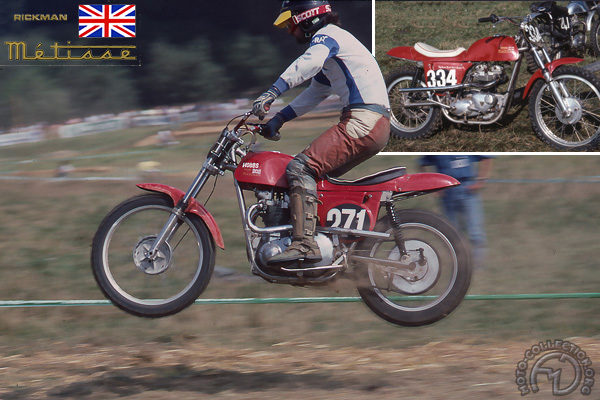 Photo ou archives : F-M. Dumas
519
Capacity
:
500
Model
:
Rikman Métisse MK3
Production
:
1960 - 1968
Category
:
(Off-Road) MX

Triumph - Rickman
500 Métisse MK 3 - 1963

Special-builders have always lived large on the British scene but the motorcycle dealers Derek and Don Rickman became bigger than that when their production soared to 800 bikes a year in the Seventies, making them Britain's number-two motorcycle manufacturer.



Home-Brewed Specials


Back in the Fifties when most British scramblers rode big singles - usually BSA-powered - the Rickman brothers appeared on home-brewed specials with Triumph twin engines in their own design of nickel-plated double-cradle frames made of Reynolds 531 tubing. They christened their potent specials with the irreverent nickname "Metisse" (French for "mongrel dog!") but those "mongrels" proved so successful that the brothers were inundated with demands for replicas.



Worldwide Reputation


Their 215-sxquare-foot workshop was clearly inadequate so they added a 4000 square-foot factory in which they built motocross frames which achieved a worldwide reputation. By 1964, the Metisse so dominated scrambling that Rickman bikes represented 60 per cent of the machines competing in the British Grand Prix. In 1966, the Rickman brothers launched the first quantity-built motorcycle with a front disc Brake, then turned their attention to the Triumph Bonneville engine, marketing a Weslake eight-valve conversion which boosted power by an impressive 31 per cent. In 1970, Rickman moved into a new 42,000-square-foot factory.




SPECIFICATIONS
Bicylindre 4 t refroidi par air - 490 cm3 ( 69 x 65 mm) - 35 ch/7 000 tr/min - Soupapes culbutées - Semi bloc moteur, boîte 4 rapports - Cadre double berceau - Suspension av. télescopique, ar. oscillante - Pneus av. 21", ar. 18" - Freins à tambour simple came - 130 kg.





Motorcycle encyclopedia Moto Passion, realised by François-Marie Dumas, include almost 2000 photos presented with an exhaustive history of the motorcycles exhibited.

This unique collection has been realised with the participation of many specialists. With many thanks in particular to Yves Campion, Michael Dregni, Didier Ganneau, Jean Goyard, Helmut Krackowizer, Michel Montange, Christian Rey, Bernard Salvat, Mick Woollett, etc

One can order here

Original cards on paper (in french)
High resolution scans or original documents presented and signed with my name.

Please contact me at info@moto-collection.org for conditions and copyright.