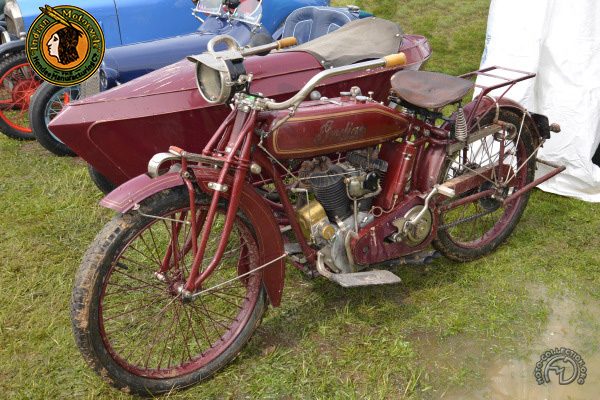 Photo ou archives : F-M. Dumas
720
Capacity
:
1000
Model
:
Powerplus
Production
:
1917 -
Category
:
(R) Street Bike

Indian
1 000 cm3 Powerplus – 1919
America teaches the world

The Indian marquee came about as the result of a meeting between tow former racing cyclists, George Hendee and Oscar Hedstrom, at New York's Madison Square Garden in December 1900. Hendee wanted to produce a popular motorbike and he asked Hedstrom - who was a precision toolmaker -- to design it.



Name of the Machine



Their contract was drawn up in pencil on the back of an envelope. By 1901, the prototype was ready. Its single cylinder engine was an integral part of the frame - it sloped backwards and also served as a seat pillar and the back mudguard also housed the fuel tank. Hendee was delighted. He named the new marquee "Indian" and the standard finish was red with gold lines. From the beginning Indians where chain driven.



Twistgrip Controls



The first major design change came in 1905 when Indian adopted the world's first twistgrip controls of throttle and ignition. In 1907 came Indian's first V-twin. One of the first three Indian bikes ever built was shipped to London in 1901. Ten years later, Indian shocked the British establishment by finishing 1-2-3 in the first Senior TT held on the mountain circuit in the Isle of Man. By then, Indian had already adopted their leaf spring trailing link from fork later copied by BMW.

SPECIFICATIONS
Engine 990cc V-twin 4 stroke
Power Output 7 hp (rated)
Valves side valves
Fuel System carburetor
Transmission 3 speed gearbox, chain primary and final drive
Suspension (front) leaf sprung trailing link (rear) rigid
Brakes (front) none (rear) internal and external brakes acting on one drum
Wheels wire
Maximum Speed 40 mph




Riding a Powerplus, the famous Cannonball Baker set a new trans-american record of 11 days, 12 hours, 10 minutes in 1916

Motorcycle encyclopedia Moto Passion, realised by François-Marie Dumas, include almost 2000 photos presented with an exhaustive history of the motorcycles exhibited.

This unique collection has been realised with the participation of many specialists. With many thanks in particular to Yves Campion, Michael Dregni, Didier Ganneau, Jean Goyard, Helmut Krackowizer, Michel Montange, Christian Rey, Bernard Salvat, Mick Woollett, etc

One can order here

Original cards on paper (in french)
High resolution scans or original documents presented and signed with my name.

Please contact me at info@moto-collection.org for conditions and copyright.